Carbon Fiber LED Shift Lights Display Steering Wheel Perforated Leather Fit for Nissan 350z 2003-2008
Made to order – Current build time is 4-8 weeks
Feature:
1. With 5 groups of LEDs on both sides of the steering wheel. As the engine RPM increases, these LEDs gradually light up in green. After reaching the configured RPM, the indicator light will flash red to remind you to shift up. LED shift indicator, adjustable range is 500RPM‑9900RPM, and has adjustable RGB shift light color.
2. LED shift indicator shows 0‑60mph quarter mile and lap times lateral and longitudinal acceleration values, and display effective dynamic data. Clear and intuitive LED display, showing speed, RPM, LAP, engine load, water temperature, voltage, etc.
3. Symmetrical and even 3K glossy carbon fiber, twists‑free weaves, coated with 1mm thick epoxy coating, provides additional protection against oxidation. Excellent surface finish, high heat resistance, which has long lifespan.
4. Simple to install, just connect the module to the wireless OBD2 plug without wiring, and swap the trim panel, wiring harness and shift mechanism from the existing steering wheel to this new steering wheel.
5. The flat‑bottom race‑inspired design increases legroom, and provides excellent grip at any temperature and even under extreme driving conditions.
Specification:
Item Type: Steering Wheel
Material: Carbon Fiber + Nappa Perforated Leather
LED Shift Lights and LCD Race Display: Yes
Steering Wheel Stitching: Red
Steering Wheel Hand Grips: Nappa Perforated Leather
Steering Wheel Shape Bottom: Flat Bottom D-type Racing Design
Finger Ridges: YES
Technical Parameters:
Working Voltage: 12V-16V
Working Frequency: 2.4GHz
Working Current: Motherboard <30mA / Display <15mA
Quiescent Current: 3mA
Induction Distance: Approx. 10m/32.8ft
Applicable Temperature: -40 ℃ – + 85 ℃
LCD Display:
1. Details of fuel consumption
2. Steering wheel angle perception
3. Dynamic steering communication
4. Time record
5. Dynamic RPM speed sensing
6. Racing mileage record
7. Engine information presentation
8. Specific information settings
9. Estimated cruising range
10. Turbo boost display
etc.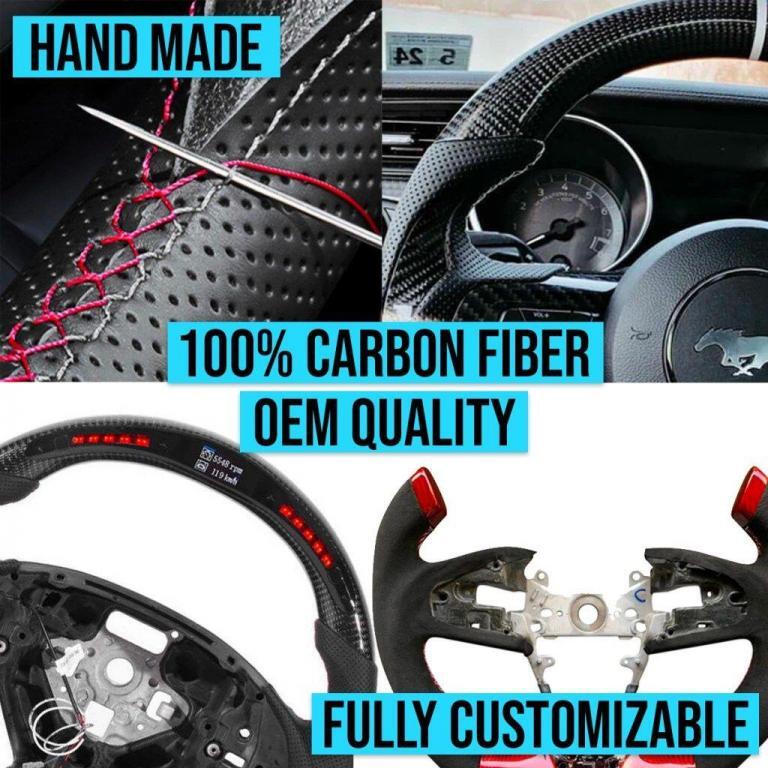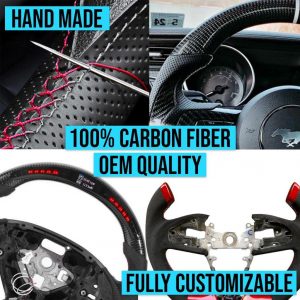 :Operating Steps
1. Ignite and start the car
2. Press the left and right buttons at the same time to turn on
3. When the LCD display shows to be matched, press and hold the button on the smart module to realize the matching connection.
Fitment: Fit for Nissan 350z 2003-2008
Package List:
1 x LED Steering Wheel
1 x OBD2 Smart Module
1 x OBD2 Wire Harness
1 x Manual